Titulados Medios Y Superioressaywriters
Juran
/
Franchise
If you are looking for a second source of income, you have just made a step in the right direction for a stable profit and socially demanded business. At Astoria, offer you transparent and long term conditions which are constructed to suite your interests. We ask you to send us your requirements to our representatives.
Q: How Can I Open an Astoria restaurant?
Astoria is actively seeking highly qualified restaurant investors and operators to become franchisees and partners. We are looking for investors with prior restaurant experience, sufficient financial resources. Knowledge and connections with the community of your area are important factors in our selection process.
Q: What are the financial requirements to open an Astoria restaurant?
The initial cost of building an Astoria restaurant ranges from $150,000 – $250,000. This includes construction, furniture, fixtures, equipment, legal fees, working capital and other expenses. Part of this investment is the initial franchise fee, which is $25,000. The total cost of each restaurant varies by size and location.
Q: What are the qualifications to become an Astoria franchisee?
Individuals or groups are required to show a minimum of $200,000 in liquid assets per store, (e.g., Cash, marketable securities, stocks) combined with an overall net worth of $300,000 per store to qualify. In addition, we are looking for individuals or groups for territory development rights in any part of the United States. You must have the resources necessary to develop a territory and the financial requirements are based upon the number of restaurants in your area.
Q: How long does it take to open an Astoria restaurant?
Based on our experience each location is different and depends on a variety of factors including site selection, construction, permissions and training. It typically takes approximately 5-7 months from signing the franchise agreement to opening day. However, as you gain experience, the development time should be reduced for other units.
 Q: What kind of training can I expect as a franchisee?
The franchise group's control person and all management participate in a 5 weeks training program at the Astoria Training Center located in Dallas, Texas. Additionally, we provide an opening training team to provide on-site pre-opening and opening training, supervision and assistance to you for a minimum of 2 weeks. Once completed, franchisees receive regular updates to their training, including on-site visits and operation reviews.
Q: What are the site requirements for an Astoria restaurant?
Restaurants are 15,000-2,000 square feet. Prime locations that have excellent visibility and easy access are most desirable. In addition, sites should be located in high traffic areas with above-average daytime and residential demographics.
Q: How much can I make as an Astoria franchisee?
Net Profit can vary a lot depending on a number of factors such as the business skills and drive of the franchisee, market conditions, the local economy and the quality and makeup of a particular shopping center or mall. You will have a chance to speak with our current Astoria Franchisee and learn from their experiences with the business.
Q: Once I become a franchisee, will I be operating myself?
No, in addition to the initial training programs, we provide ongoing support through our Operations Manual, SOPs and direct access to a Franchise Business Development Manager who is experienced in all aspects of Astoria restaurant operations and management. In addition, our online portal provides the most current information and updates that are important to your daily operations.
Q: What are the average unit sales volumes of an Astoria restaurant?
2014 average unit volumes for Astoria stores open longer than a year is $1 million.
Q: What is the term of the franchise agreement?
The initial term of your Astoria franchise agreement is 5 years.
Q: What is the availability for opportunities in my area?
Due to the overwhelming amount of interest in Astoria franchises, we are only accepting applications from the best investors and operators in the cities. Currently, we are evaluating many new cities throughout the U.S. Contact our Franchise Development Department for availability in your City.
PBS fans are midway through Season 2 of Downton Abbey. UK viewers/DVD collectors who have seen all episodes could be feeling smug in their knowledge–me included–but the series is so rich that I have no problem watching the older episodes a few more times. Besides, September is a long time to wait for Season 3 and life in the 1920s.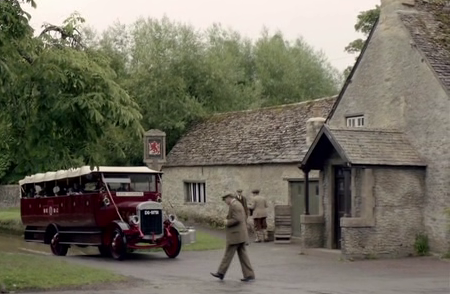 Anna takes the pretty red bus to confront Bates (ITV)
The Bates Saga of Episode 3,4
In the past couple of episodes, we have learned that Mr. Bates, played by Brendan Coyle (he tweets @brendancoyle99), is back on the scene. In Episode 3, Mary tells Anna that it was Mr. Bates she saw in the village in Episode 2. Sir Carlisle was more than happy to track him down, likely in hopes that Mary might be more agreeable to his marriage proposal. Anna's true love is working at the Red Lion (an inn/pub) in a nearby village. Anna promptly (or as quickly as public transporation of that era will take you) shows up at the Red Lion to confront him. Loving conversation ensues.
In Episode 4, Daisy overhears Thomas tell O'Brien that Mr. Bates was spotted working at the Red Lion; she blabs the news which spreads like wildfire to Lord Grantham. He then takes it upon himself to break the news to Anna who already knew (way to steal his thunder); she explains that Bates can't come back to Downtown since he left on bad terms.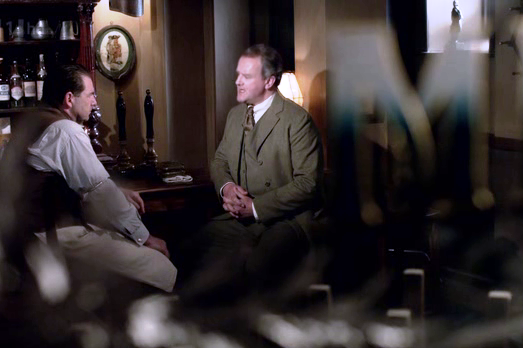 Lord Brantham and Bates chat in the charming Red Lion (ITV)
This prompts Lord Grantham to take a trip to the Red Lion himself–likely in a timelier fashion than Anna–to mend fences and bring him home. All this foils Molseley's grand plans to become valet to Lord Grantham. (My money is on him going "postal" in Season 3). Note:  he actually he did get a lot tipsy in the S3 Christmas episode.
I was surprised that Bates didn't get fired with all the personal visitors he had, plus refusing to serve Thomas' friend. Still, from the interior shots, it looked like a charming little establishment. With all that traveling, I am sure Anna and Lord Grantham might have taken a glance at the menu. Whatever might they have been served?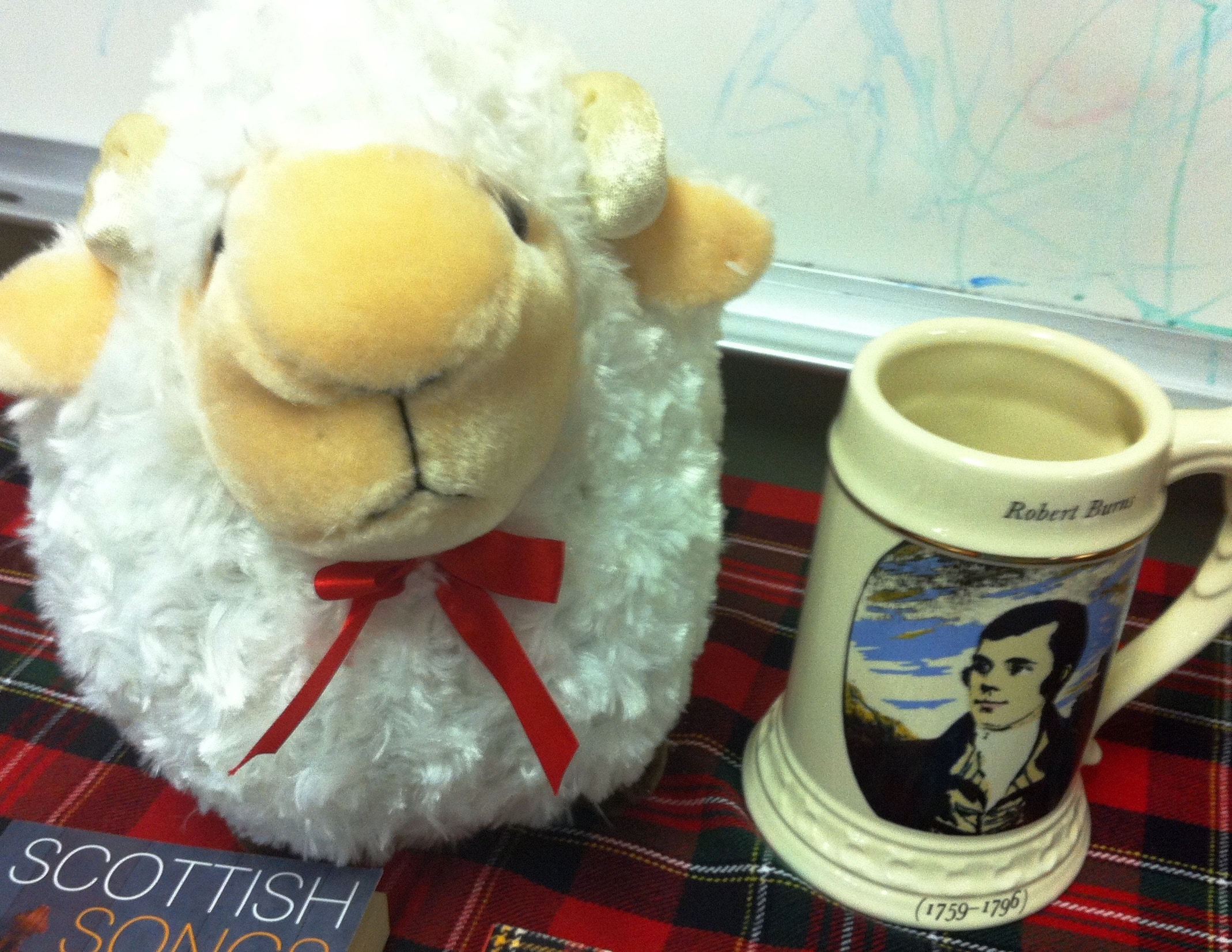 the only stuffed sheep at this event
I am so glad you are curious. I just made a pub dish for a Robert Burns styled Supper last night (potluck-how Scottish is that) and wasn't sure how to include the recipe into a post on Episode 4.
You will find this dish in pubs around the world, but could have also been served downstairs in the servants hall. I dare say that the Crawleys would not eat meals made of cabbage.
The wee sweet Scottish hostess for last night's event asked us to bring a main course dish, but did not specify a preference. I was not going to show up with a shepherd's pie (there ended up being 2), but thought about some sort of stew. A greater power had stepped in and helped me narrow the choice.
Be careful what you ask me for
Lord D mentioned one day that he would love some coleslaw, a dish he enjoyed the many years he was a vegetarian. I love to please My Lord and bought a small cabbage to make some slaw. When I cook (my husband is making a lovely pork roast tonight) I am both Daisy and Mrs. Patmore so employ whatever tool works best. In this case my mandoline made handy work of shredding cabbage and carrots. I ended up with an enormous bowl of slaw. I had the foresight not to make dressing for the lot. After 3 days of raw cabbage with every meal, Lord D (my husband) cried uncle, leaving me searching for another way to use up the shredded slaw. And then it hit us: colcannon. A traditional one pot dish, it is found all across the UK, known by a variety of names (colcannon, bubble and squeak, rumbledethumps, kailkenny). Essentially it is a mixture of potatoes…and cabbage! Since I was asked to bring a main dish meal I added sauages to the mix. It is traditionally served in Ireland for Halloween.
Main Dish Colcannon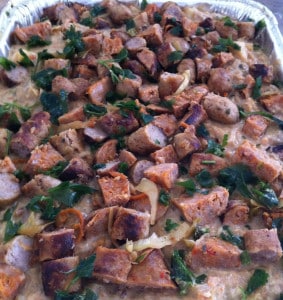 Main Course Colcannon: a hearty dish fit to feed a crowd
Colcannon is a lovely Irish comfort food combining potatoes and cabbage, all mashed together.  It can be served as side dish, or sausages added to make a main course feast.  They are great the next day "made over" as Colcannon Cakes.
Ingredients
4-6 yukon gold potatoes, cubed
1 large onion, chopped
1 whole cabbage, shredded
6 sausages (omit if you want a veggie version) purists would use irish banger sausages
1 tablespoon fresh parsley
1 bottle of beer
1-2 cups non fat plain yoghurt
salt and pepper to taste
Method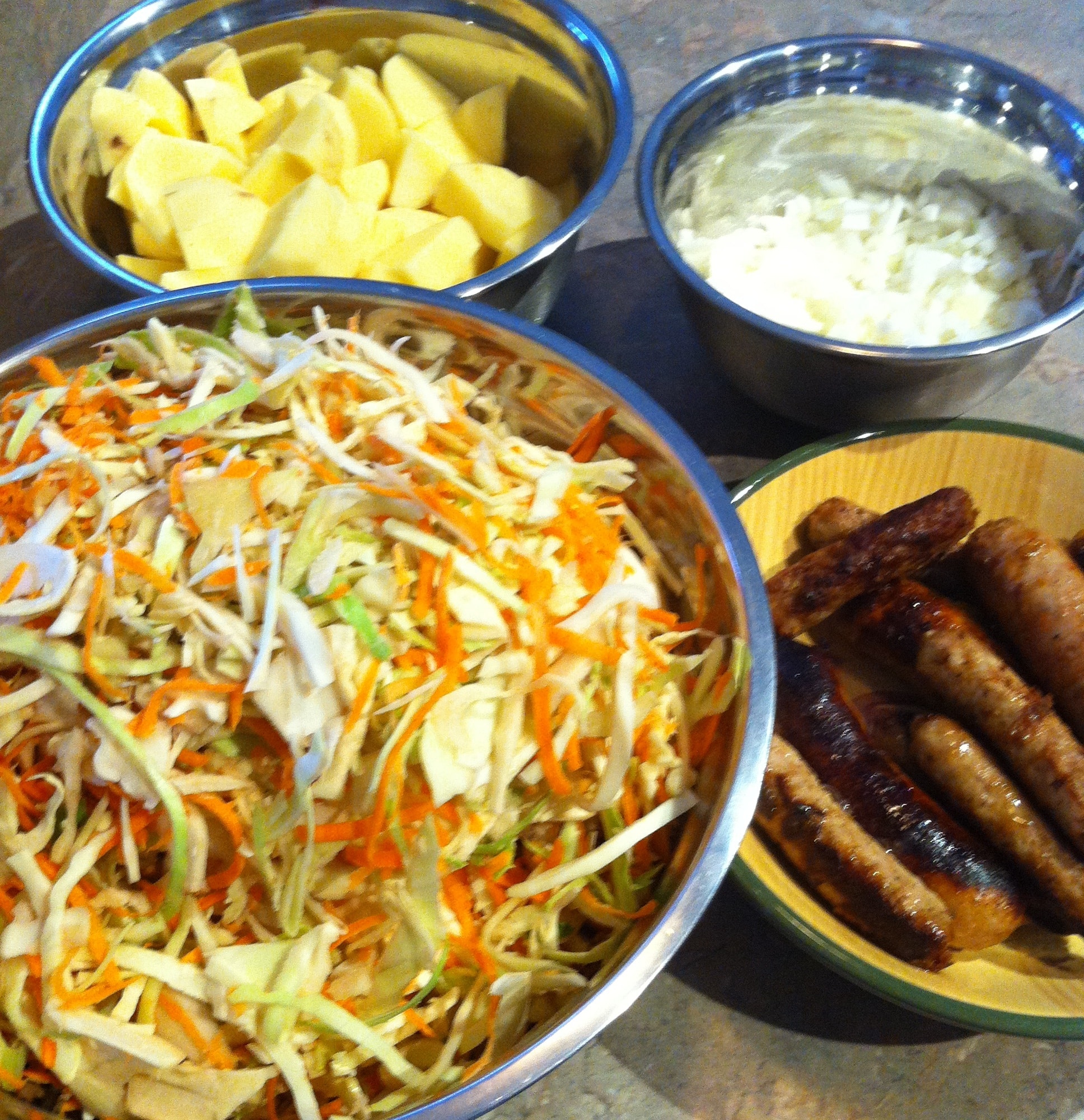 *"Daisy, chop all the vegetables"."Yes, Mrs. Patmore"
Brown the sausages in a large dutch oven.
Remove sausages.
Add potatoes and onions to drippings in pan and stir to coat.
Add cabbage and parsley and mix well.
Place sausages on top of mixture.
Cover with tight fitting lid and simmer, stirring occasionally until potatoes and cabbage are soft. 45 minutes is about right.
Add as much ale as needed to keep colcannon moist.
As soon as the potatoes and cabbage are soft, remove the sausages
Add the dairy product of your choice to the mixture until it resembles mashed potatoes.
Add salt and white pepper to taste.
Chop up the sausages and add to the mix.

veggie version